February 19,2020, Open 18:00 Start 19:00
Tokyo University of the Arts, Department of Musical Creativity and the Environment
Senju Campus, 7 Hall.
1-25-1 Senju, Adachi-ku, Tokyo 120-0034
Admission free
No reservation is necessary

Synopsis
What kind of new idea can be found using AI purely for music? This year, the research of Music Environment Creation Department at Tokyo University of the Arts, was conducted based on the theme "l.AI ve electronicspace".

In Jan. 15, 2020, the conference of "the 2nd Seminar on Artificial Intelligence applied to Sound and Music Composition" was given by Tokyo University of the Arts, together with IRCAM and Tokyo University. Some of the latest developments of AI applied to music and sound were presented both from a computational and a composer view, and the specific potentialities that are arising at the intersection of their fields and beyond were also discussed.

Page and materials for the 2nd Seminar on Artificial Intelligence applied to Sound and Music Composition, Tokyo University of the Arts, 15th of January 2020. https://github.com/adrienchaton/seminar_geidai_AI_Music

The concert on February 19, 2020 will be a continuation of the "the 2nd Seminar on Artificial Intelligence applied to Sound and Music Composition".

For compositions on the first half of the concert, development and theoretical research concerning AI's technology alone were not only focused. Also, it's been limited to composing by AI, doing a musical score and having a person to perform it. At the same time, computers are not used on stage and other elements, such as the internet and sound design, are avoided at all.

Composers in the second half focused on the theme of how AI enriches human art and fosters new paradigms for music.

Program
Manjie  Enchanted Recorder and String Quartet
Fumio Tamura   Liederkreis for Bass Clarinet
Haolun Gu  Serenograph II  Recorder and String Quartet

=== Break === 

Shinad Kang BREATH for Violin and live electronics
Suguru Goto   Duali II  Recorder and String Quartet
Satoshi Fukushima   Patrinia Yellow for Clarinet and Computer(2013)


Program Note
Duali II / Suguru Goto
Composing with AI (or, strictly speaking, having someone compose instead of you) it contrasts to the act of thinking intentionally with the human brain. So, I thought about what AI can do, by giving the priority to the things that humans cannot do. Usually, composing is performed by one person, and it is unlikely to be performed by more than one.
What I mean with this is not in the situations where the composition is divided into parts, like composing each section by multiple composers, or one person composes it and another one arranges it. What I mean is having to composers with completely different tastes and work techniques sharing a single piece of music on a sensory level and working at the same time. To put it another way, it is naturally impossible to have heads and hearts of human beings connected by cables, like in the internet.
So, we have no choice but to make communication by language. Although it looks like a science fiction movie, but if two composers with different tastes and techniques can really connect their heads with cables and do one composition with their own abilities, it probably will be worthy.
In this work, the attempt was made to make a composer who assumed different personalities, that is, an AI that assumed two different brains, on one computer, and to create one composition in collaboration within them. For example, one is a person that will try to work on complex compositions and the other person is someone who doesn't like classical music, or a person who composes innovative music and the other person is not interested in music, such contrast is a completely different way of assuming. Specifically, with one constraint programming of AI creating complex music data, the other one with strong individuality AI, the not liked portion of pattern recognition will be filtered. It is a method of evaluating, learning, and remixing another person with another personality.

Serenograph II / Haolun Gu
This is the second music work from the "Serenograph" series and has been written inspired on the theme "Fragments and particles". A faraway place from me, a place sterile and full of radiation. I consider that the inner voice, born from extremely quietness becomes music. Using a special method that we can call it as "sound effect", more similar to a noise than a musical note, as it has no pitch, the idea of music, from the center of itself, raises. For this reason, some ideas and motifs were created and artificial intelligence based on OMax, was used to help with the concept of the work to be developed.

Manjie / Enchanted
This time I produced this work regarding on my research theme "Artificial intelligence and composition." Using software such as Open Music, Max / Msp, Omax, and Audio Sculpt, I tried various ways in the process of composing music, such as process the structure of sound in the initial stage of the composition, the automatic generation system related to the structure of the work, and the automatic generation system of music in the development of the work. I intent to materialize this research theme and the concept of this work by combining Mongolian ethnic music recording materials and music materials recorded in Japan with AI technology and creating different sounds in the work.

Shinad Kang / BREATH for Violin and live electronics
The work Breath was implemented by using Magenta that is Google's machine learning tool for the musical creatives. Shinae Kang formalized the whole piece by editing musical ideas generated by Magenta as a composer.
Fumio Tamura / Liederkreis for Bass Clarinet
The structural basis of this piece is that the sound which was represented appears again every 30 seconds, finally constructing twenty three canonical layers taking twelve minutes.
In this piece, one may experience a moment that the memorized sound makes us refuse to keep it as "past", due to its formal principle that "past" is almost perfectly repeated in a limited time frame.
Satoshi Fukushima / patrinia yellow (2013)
This piece was composed for clarinet and computer. The computer is used for real-time sampling and processing system. Sound files that have been prepared is not used. For this reason, all the sound that is output from the computer consists of the sound from the clarinet that was blown on stage.


Composer
Suguru Goto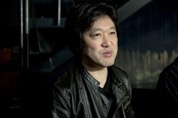 Suguru Goto is a composer, media artist and performer. He is considered one of the most innovative of a new generation of Japanese artists. He is particularly interested in technical experimentation in the artistic field, as well as to the exploration of the potential in the relationship between man and machine. In his works, new technologies are combined to form interactive installations and experimental performances; for example, his "virtual music instruments", are able to create an interface for the communication between human movements and the computer, where sound and video image are controlled by virtual music instruments in real-time through computers.
Goto works internationally and is the recipient of numerous prizes and fellowships, such as the Koussevitzky Prize, Boston Symphony Orchestra fellowships, the first prize at the Marzena, Berliner Kompositionaufträge, a prize by the IMC International Rostrum of Composers in UNESCO, Paris, DIRECAM, French Cultural Minister, Music Theater Award 2008 in Berlin, "OFQJ-dance and new technology prize" at Bains Numérique #4, International Festival of digital art of Enghein-Les-Bains, in France, 2009, Electronic Sonority Honor Award Prize, FILE PRIX LUX, in Brazil, 2010, the winner of the Action Sharing 2, Italy 2011, the 2nd prize in the 2013 KAO International Kinetic Art Competition, and the Prix Ars Electronica 2013 Digital Musics & Sound Art | Honorary Mention. His works have been performed in major festivals, such as Resonaces/IRCAM, Sonar, ICC, Haus der Kultures der Welt, ISEA, NIME, AV Festival, STRP Festival 2009, and the Venice Biennale. http://gotolab.geidai.ac.jp



Haolun Gu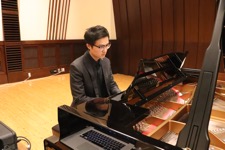 Born in Suzhou, China in Nov. 1994, started learning composing from the first grade in high school. He graduated from the Music Design and Producing deparment of Shanghai Conservatory of Music with the top ranking in 2017, and entered the master course in Tokyo University of the Arts in 2018. He studied composing with Yi Qin, Mingwu Yin, Qiangbin Chen, Tatsuhiko Nishioka and Suguru Goto.






Jie Man
Born in Inner Mongol, China. She graduated from Inner Mongol University Art Institute department of Music, speciality Piano and received the master degree from the Graduate School of the same. She studied in Japan since 2011 and got her second master's degree in Composition from Tokyo University of Arts. She is currently pursuing a Ph.D. degree in composition for electro-acoustic & instrumental music. Her work has been collected by Tokyo University of Arts Museum, and she was invited from Contemporary Music Festival Present of Orchestral Asia 2015, her works were premiered in the 2016 International Workshop on Computer Music and Audio Technology (FORUM IRCAM-WOCMAT Taiwan 2016), Seoul International Computer Music Festival 2017, SMC2018 and 2019, ICMC2018 and 2019. Her music is regularly performed mainly in China and Japan.
She studied composition with Li Shixiang, Guo Weiguo, Yamamoto Hiroyuki, Nakamura Noriko, Nodaira Ichiro, NISHIOKA Tatsuhiko, and Goto Suguru.


Shinae Kang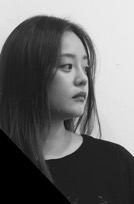 Shine Kang is a composer and multimedia artist, currently studying computer music with prof. Goto Suguro as a Ph.D. student at Tokyo University of the Arts. She holds a Bachelor of Music degree in music composition from Musashino Academia Musicae and a Masters's degree in electronic music composition from Dongguk University. She endeavors to show new aspects of music by merging computer music with other modern genres. She tries to accommodate new technology into music in her recent works, such as composition applying artificial intelligence theory, and algorithmic composition and audiovisual art.







Fumio TAMURA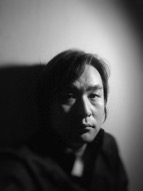 M.A. in composition at the Tokyo University of Fine Arts and Music with Jo Kondo, and at the Guildhall School of Music and Drama, London with Robert Saxton where he was granted the fellowship under the Japanese Government Overseas Study Program for Artists. His pieces have been performed at several music festivals such as Spitalfields Music Festival, London, ACL Asian Composers League Festival (Sendai and Seoul), All Japan Band Festival, Tokyo-no-Natsu Music Festival, ISCM Hong Kong 2002, Festival Angelica Bologna, The11th Odessa International Contemporary Music Festival, Uklaine, Daegu Festival, and Klangwerkstatt Berlin Festival für Neue Musik 2012.
He has won prizes including The Valentio Bucchi International Composition Competition Prize in Rome, The JACA Award for Theater Arts, The National Theatre Award, and Honorable commendation on Genesis Prize for Opera 2002.
Member of JFC (Japanese Federation of Composers).
Associate professor at Tokyo University of the Arts, Japan.


Satoshi Fukushima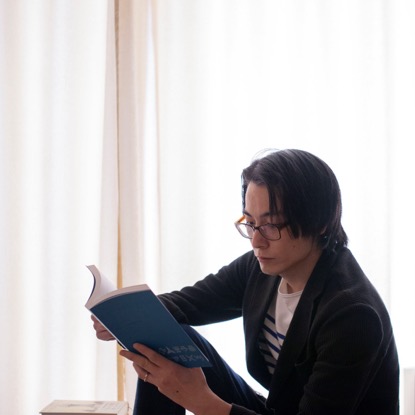 (1977- Born in Niigata, JP)
He studied music and programming at Institute of Advanced Media Arts and
Sciences (IAMAS, 2002-2004). He has composed some works in live
electronic music from 2002. And also he is a member of the "Mimiz". It
is a free session group using a Digital computer and Analog noise. And
Co-composition work "HENYO NO TAISYOU" with Junichi
HAMAJI(Composer/Saxophonist) is still in progress since 2009. He is a
member of the Japanese Society for Electronic Music (JSEM).

2006 [Mimiz] ARS ELECTRONICA 2006 Digital Music "Honorary Mention"
2006 [solo] The 1st AAC Sound Performance Dojo "first prize"
2011 [solo] The 6th JFC Composition Award "selected prize"





Performer
   Hiroaki Takaha/Conductor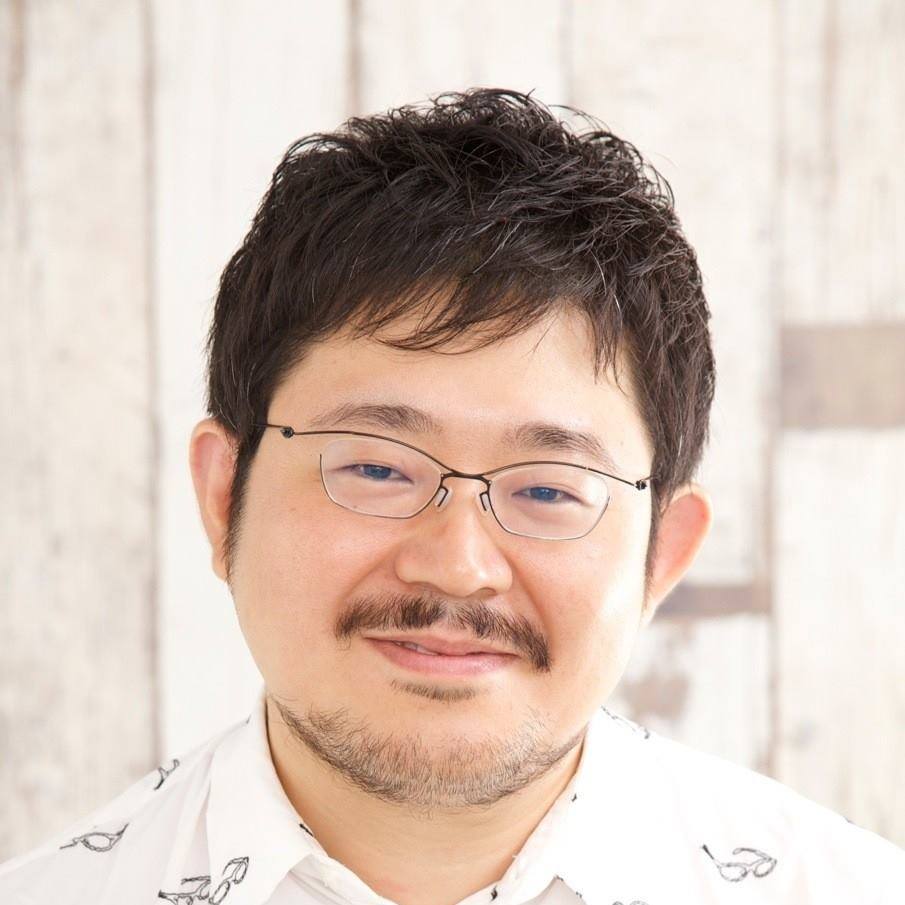 Tosiya Suzuki/Recorder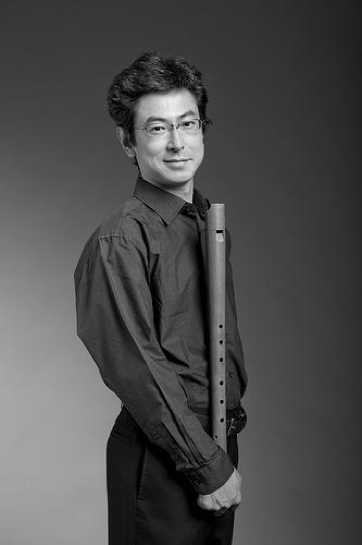 Tosiya SUZUKI studied the recorder at the Sweelinck Concervatorium with Walter van Hauwe in Amsterdam. He specializes in performing contemporary music and working toextend the techniques and the possibilities of the recorder.
He worked with composers, such as L.Cori, B.Ferneyhough, T.Hosokawa, S.Sciarrino and J.Yuasa and premiered their works. As a soloist he performed at festivals including, Wien Modern, Tage für Neue Musik Zürich, Gaudeamus, Darmstadt, ISCM World Music Days,\Festival d'Automne à Paris, Akiyoshidai, Takefu, Royaumont, Composium, Klangspuren,Tongyeong, Festival A Tempo, Melbourene Recital Centre Opening Festival, New Zealand Festival, China-Asia Music Week, Etching Festival, Summer Festival at Suntory Hall, La Biennale di Venezia (as a Takefu Ensemble) and Melos-Ethos. He has had recitals and workshops in Europe, Russia, Turkey, USA(UCSD, UCBerkeley, Stanford), Venezuela, Asia, New Zealand and Japan. In '02 he has been the first lecturer for recorder at the Darmstadt. His solo CD [Tosiya Suzuki Recorder Recital] was awarded 'Musik & Ästhetik Interpretationspreis 2003' by der Gesellschaft für Musik und Ästhetike. He was awarded such as the Darmstadt Stipendien Preis, the Kranichstein Musikpreis, the Kenzo Nakajima Music Prize and the Keizo Saji Prize. He teaches at the Elisabeth University of Music.  www.tosiyasuzuki.com/


Ikuko SUZUKI/Clarinet
After acquiring her Bachelor's degree from Tokyo National University Fine Arts and Music, and Master's degree and Professional Studies Program of the Manhattan School of Music where she studied with Prof. Charles Neidich, she also earned her Post graduate certificate and Master's degree from Conservatory of Amsterdam where she studied also bass clarinet with Prof. Harry Sparnaay. A versatile musician, she performs not only as a soloist and chamber musician, and has appeared at Bowdowin, Sarasota Music Festival in the U.S., Moonbeach Music Festival in the Netherlands, and Kirishima Music Festival in Japan where she received special awards on two occasions. Ms. Suzuki has also collaborated with dancers, pottery artists, photographers and narrators. Currently shie is a member of Ensemble Contemporary α, the Hobereaux Clarinet Ensemble and NY Licorice Ensemble. She is also a Feldenkrais Method practitioner and giving lessons for musicians.




Madoka SATO/ Violin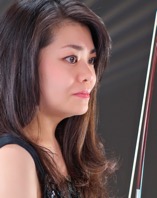 is Japanese violinist known as a specialist on Sibelius, made her doctorate at the Tokyo National University of Fine Arts and Music, also studied in London, and Vienna.She has been a prizewinner at The Prague Spring International Music Competition, The Václav Huml International Violin Competition, The Premio Rodolfo Lipizer International Violin Competition, and won the third prize at The Jean Sibelius International Violin Competition in 1995. She gave a widely acclaimed performance of both versions of Sibelius's Violin Concerto with the Geidai Philharmonia in Tokyo (the première of the original version in Japan), many Sibelius recitals of all his works for violin including world première in Finland, UK, USA and Japan, also appeared at Sibelius i Korpo, Oulunsalo Soi and many other music festivals. Her Sibelius's disks for ALM and BIS have a worldwide reputation. She performs as a soloist with Japanese and international orchestras, and is active in the field of contemporary music. Currently she is a lecturer at Ueno Gakuen University, and a director of the Sibelius Society of Japan.



Wakako HANADA / Violin/ Viola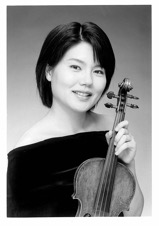 Wakako Hanada began playing the violin at the age of 5. She moved to UK at the age of 15 and obtained her diploma (ARCM) at Royal College of Music in London and BA from Oxford University. She returned to Japan and completed the post-graduate study at Tokyo University of the Arts. She was the finalist of the 3rd Forval Foundation Stradivarius Competition, and was awarded the Muramatsu Art Prize in 1999 for her recital of contemporary Japanese compositions. As a member of Ensemble NOMAD, Ensemble Kochi and Ensemble Contemporary Alpha, she performs from wide range of repertoire. She is currently teaching at Toho Gakuen College of Music and Drama, Tokyo University of the Arts and Suntory Hall Chamber Music Academy, and serves as a Coordinator for Japan Foundation for Regional Art-Activities.





Yuko Ando / Viola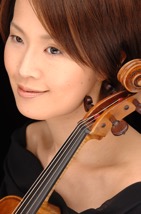 Studied viola under Prof. Junji Suganuma and graduated from the Graduate School of Tokyo National University of Fine Arts and Music. She has won 1st prize at Japan Chamber Music Competition, 2nd prize at Vittorio Gui International Chamber Music Competition, Semi-finalist at 52nd Geneva International Viola Competition, Ataka Prize in 1994, prize for the best young player at Ogaki Music Festival in 1997.  
She played as a soloist with masters such as Gerhard Bosse, Felix Ayo, and with orchestras as New Japan Philharmonic Orchestra, Tokyo Philharmonic Orchestra, and Royal Academy Orchestra London. She frequently appears at Saito Memorial Festival, Miyazaki International Music Festival.
Principal viola player at Tokyo City Philharmonic orchestra 2001-2004, Principal viola player at Gedai Philharmonia from 2004. Member of Kioi Sinfonietta, Japan Chamber Orchestra, Lecturer at Tokyo National University of Fine Arts and Music.



Midori Hirota / Violin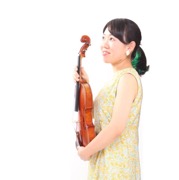 Midori Hirota is a Japanese violinist born in 1996 in Kuwana, Mie. She began her violin studies at the age of six with Miho Sato. A few years later, she began her studies with Shigeko Hayashi at Nagoya municipal Kikuzato Senier High School Music Department. She earned the Bachelor of Music degree from Tokyo University of the Arts, where she was studied with Shimizu Takashi and Sungsic Yang. At the same time, she studies privately with Takaya Urakawa. She belonged to NHK Nagoya Junior Orchestra(2006-2014).
She has won numerous awards including first prize winner in Mie Music Competition, Gifu International Music Festival Competition, and third prize winner in Yokohama International Music Competition among others. She was awarded the Mie Governor's Prize and the Gifu Governor's Prize. She participated in the exchange program with the Royal Academy of Music (RAM) in commemoration of the 130th anniversary of Tokyo University of the Arts and performed as a joint orchestra in London and Oxford. She played with Aichi Chamber Orchestra at Gifu International Music Festival 2019. In addition, he performs in various places such as concerts, recordings, and live support regardless of genre or style.





Takui MATSUMOTO / Violoncello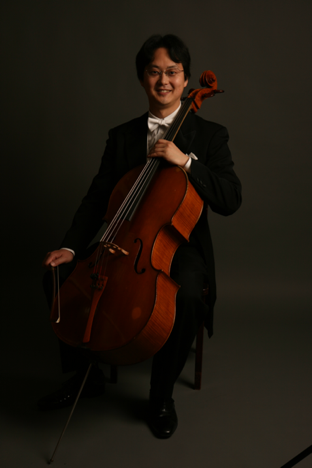 He was obtained his BA and MA from the Tokyo National University of FineArts and Music. While a student, he was awarded the Fukushima prize. Healso won the 3 Prize in the All Japan Classic Music Competition. He was invited many music festival in Japan and the other country. He performs a wide variety of music beyond classical genre, and he plays many Contemporary musics actively. He is a member of Ensemble Contemporary α, Ensemble Kochi, Elements String Quartet, GEN Chember Ensemble, Ryota Komatsu & Orquesta Tipica, and he is a lecturer at the Tokyo National University of Fine Arts and Music.